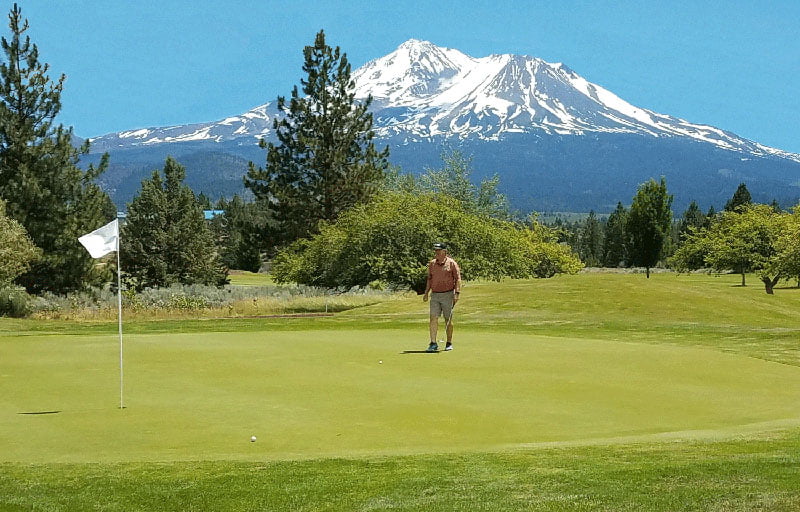 Gold Hills Golf Course
Redding, CA
Gold Hills Golf Course in Redding is an 18 hole golf course for public play, the only of of its type in Redding. you are assured of an enjoyable round of golf.  Gold Hills Golf club originally opened in 1980 and has had multiple improvements over the years, seemingly making it better each year.
MORE INFORMATION - SCROLL DOWN
Hole 11 - A dramatic par 3
Hole 18 - A tough par 5 played along & across Stillwater Creek
Tierra Oaks clubhouse from the first fairway.
Redding's public access 18 hole Golf Course.
The variety of terrain and good course conditions help make Gold Hills Golf Course an enjoyable round of golf.  Some holes have small ravines while other holes are level or with a gentle slope, it all adds up to a very fair golf course and lots of fun!.  As you can see in the photos to follow some of the surrounding custom homes are overlooking the course.  The first you visit riding in a cart might be a good idea until you are familiar with the terrain.
As the host to multiple local golf events of all types and sizes many oganizations take advantage of Gold Hills Golf Course's sizable banquet facilities.
Gold Hills Golf Club
1950 Gold Hills Dr.
Redding, California 96003.
Gold Hills Golf Course can be reached @ 530-246-7867 ext. #1 for the Pro-Shop 
Just outside the bar is the patio area that overlooks the 18th green, a great place to hang out and watch the finish of a tournament like the City Championship.
The Remodeled Clubhouse. Perched on a hill in overlooks many key components to the golf course including the 18th hole, 1st hole, practice range, and hole #2 in the distance
Within the Gold Hills Golf Clubhouse the bar area has towering ceilings with windows overlooking the 1st hole and driving range.
Practice putting in in two locations, this one below the clubhouse and adjacent to the driving range and first tee is for all to use.
The practice range at Gold Hills Golf Course is used from both ends, here from the far end looking back towards the clubhouse.
Practice area number two, this one is for full members and includes chipping, sand bunker, and putting green.
A nice start to the round on the first hole, a slight dogleg right with a creek about 50 short of the destination.
Hole #1 fairway. The approach shot needs to carry the creek that is in front of the green.
#1, after crossing the bridge over the creek the bunkers are more in view, if you can't make it to the green there is room short to land safely.
#2 tee shot must carry this creek, which can be difficult at times.  Depending upon the line the ball is hit on you can cut off a chunk of this dogleg par 5 by taking some risk.
#2 , the approach shot can be a short one . Be careful hitting into this green that has two distinct levels. the long hitters may be able to reach the green in two.
#3, this short uphill par 3 has a shallow firm green that runs diagonally away from the tee box. You'll want to see a back pin on this hole, the front pin is quite difficult with a very small target.
#4, a well played tee shot to the bottom and left side of the hill will leave a short second.
#5, this the newest hole on the course is an uphill tee shot with the second to a firm and crowned green with a false front.
#9, This par 5 has a downhill tee shot requiring a lay up short of the creek bed, or a thundering tee shot over it.
#9, the second and third shots of this hole are uphill to a large green, grab extra club for the elevation change.
The very large green on #9 has some flat areas, while other spots require playing a large amount of break
#13, This was lengthened a few years ago and a new green was constucted and the pond expanded.  A big improvemnt for sure.
#15, For most players this downhill par 5 is not reachable in two shots.  Those who try to reach the pond and rock walls will make you think twice.
The rock walls and pond protect this long narrow green.  The false front will propel the ball forward as it slopes towards the back of the green on the approach shot.
#16, is one of the most difficult holes in the Redding area. This par 4 has plenty of trouble all around. a couple well placed shots are at a premium.  Add two clubs for your approach shot.
#17 plays severely downhill and is quite short as well, distance control is at a premium.
#18 tee, this closing par 5 at Gold Hills Golf Course is a tough hole with out of bounds on the right and hazard on the left.
Here at 18 green looking back.  the green sits in a bowl shaped area that can help a wayward shot. A nice finish to an enjoyable round of golf.
Gold Hills Golf Course - Course  Ratings
Men
Tees
Par
Rating
Slope
Yardage
Black
72
72.5
132
6609
Blue
72
70.9
126
6194
Green
72
67.8
120
5608
Women
Blue
72
76
135
6194
Green
72
73.2
130
5608
Orange
72
70.0
123
5115

Course Records: 
61 by Doren Granberry.

Gold Hills Golf Course - Score Card
Gold Hills Golf Course Layout