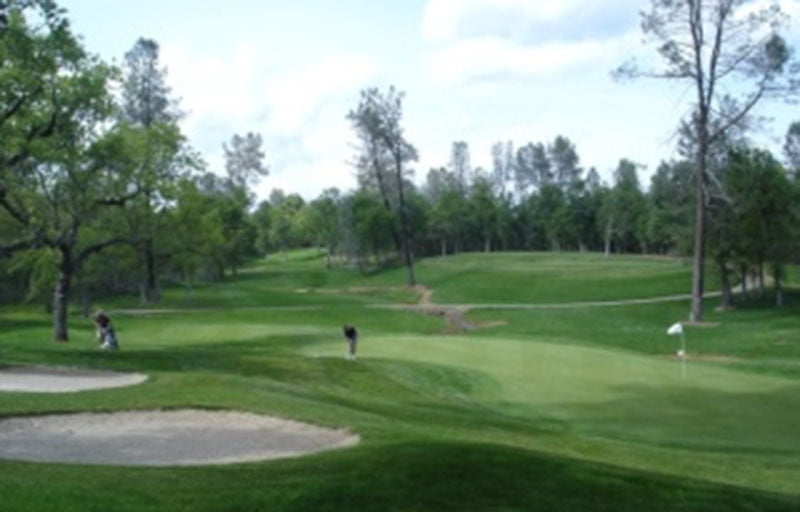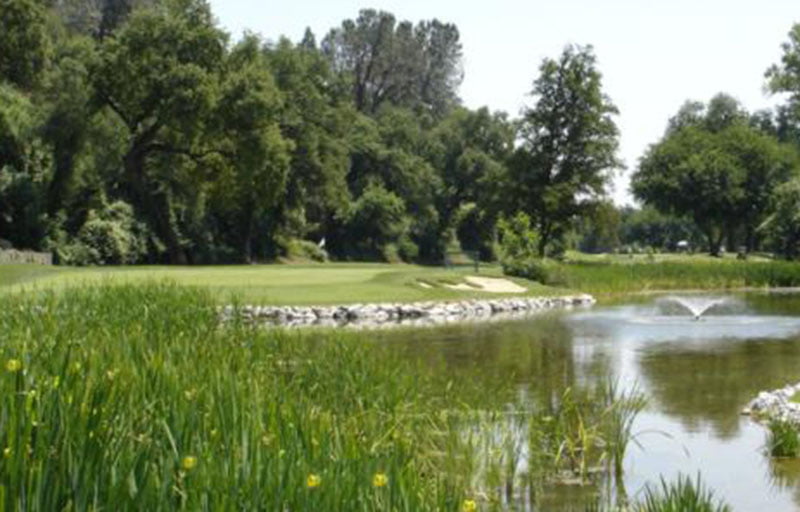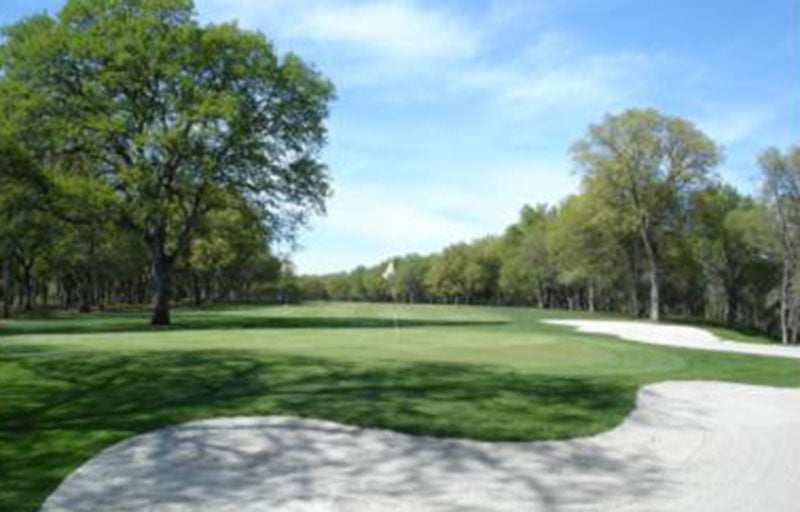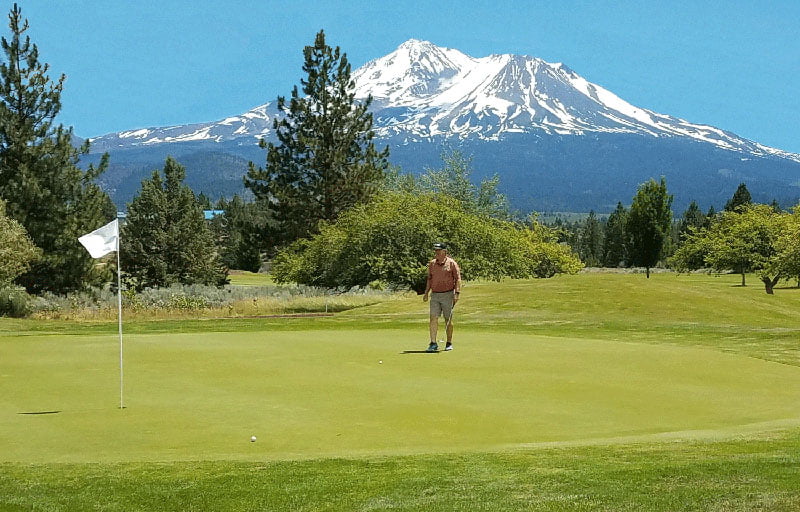 Tierra Oaks Golf Club
Redding, CA
Tierra Oaks Golf Club in Redding is an 18 hole championship golf course surrounded by Tierra Oaks Estates which is perhaps the  nicest neighborhood in Redidng with its Gated entrance and spectacular homes.  The golf course is challenging and fair, a good test for all levels of golfers.
MORE INFORMATION - SCROLL DOWN
Hole 11 - A dramatic par 3
Hole 18 - A tough par 5 played along & across Stillwater Creek
Tierra Oaks clubhouse from the first fairway.
The Gated Golf Course Community of "Tierra Oaks Estates" surrounds Tierra Oaks Golf Club.
Tierra Oaks Golf Course in Redding is a pure Golf Club, not encumbered with other distractions.  Golf is the focus with many considering it the most challenging in the area and most enjoyable with the variety of topography and undulations.  Unfortunately photos can't convey this very well.
With golf primary on your agenda this is a course that will keep your attention, and with its varied terrain it will continue to be hold your interest time after time.  Amenities that are at the club include driving range, practice green, restaurant, banquet facility, and the lounge. The Golf Club of Tierra Oaks is surrounded by vacant land and a fantastic gated neighborhood of custom homes called Tierra Oaks Estates, yet the homes on large lots are set well back and away from the golf course.
The Golf Course can be played year around with a very small annual fee plus the Green Fee the day you play.  Essentially this "private" golf course can be played by everyone who makes a tee time through the pro shop.  There are also many longtime "Full" members who pay monthly dues and play often.
Overall the layout shares an interesting design feature with golf courses such as Pebble Beach and the Old Course at St Andrews, once you tee off of hole 1 you only return upon the completion of the 18th hole.
More Tierra Oaks Golf Club & the Redding Gated Community of Tierra Oaks Estates at:
Tierra Oaks Golf Club - Pictures & Descriptions
The Pro Shop at Tierra Oaks Golf Course is prominent, as you approach the building it's right in front of you, the restaurant entrance is just to the left while the cart garage is to the right.
The clubhouse from another angle. It has a Southern Georgian feel to it and was designed to have some similarities to the clubhouse at Augusta National Country Club, home of the Masters.
A great place to relax is the patio overlooking
the first tee. The same view is available just inside from the small library and bar.
The Dinning Room shown here has a great atmosphere.  A terrific place for special occasions such as weddings, anniversaries, etc.
The practice range at Tierra is ample in size and having natural grass to hit from is a great asset that most courses in the area don't offer.
The practice putting green at Tierra Oaks is a great place to get your touch ready for the round.
Hole #1 - A great start to your round of golf with a wide fairway and a green that sets the stage for the round with its undulating surface!  Flat straight puts are not to be expected at Tierra Oaks.
Hole #4 - Tee shot favors a slight fade.  Trees on the right are thick and not a good place to be.  A shot missed a bit to the left is ok as long as it stays in bounds.
Hole #3 - A short par 3 with the tee shot going slightly down hill.  A two tired and generously sized green awaits. When the wind blows the shot is generally pushed to the left towards a pond that protects the left and back of this hole.
Hole #5 - A dogleg left, some longer hitters can may cut the corner to shorten it up.  From the back tees there it is a tough hole and approximately 50 yards longer.
Hole #7 - This downhill par 3 plays 162 yards from the white tees, you must carry a seasonal creek, like on many of the holes at Tierra Oaks Golf Club.
Hole #10 - A dogleg left, this photo shows the approach shot to the green from the middle of the fairway.  A very nice start to the back nine.
Hole #11 - A beautiful par 3 at Tierra Oaks, seen here looking back at the green and tee boxes in the distance.  The safe shot is towards the right of this long and narrow green in order to avoid the creek just to the left of the green.
Hole #12 - This hole is rated as #2 on the course due to it being on the back nine but in real life, it is the most difficult at Tierra Oaks Golf Course.  A long hole with a severe right handed dogleg to a two tired green.  Aggression can be rewarded for the longer hitters by cutting the corner but severe penalties await a missed hit shot.  Extreme care is needed here!!
Hole #13 - A dogleg left, this is not a difficult hole if played as designed, trying to cut the corner is a high risk shot, or just as easily a second tee shot for a lost ball. Hazards also come into play, both short and long on the tee shot.
Tierra Oaks Golf Club - Course Ratings
Men
Tees
Par
Rating
Slope
Yardage
Black
72
73.1
142
6719
Blue
72
71.5
137
6343
Green
72
70.2
131
6021
White
72
68.9
123
5711

Women

White
72
76.4
137
5711
Red
72
72.3
127
5242
Gold
72
71.0
124
5053

Course Records:
Black Tees: 64 by Kyle Hansen.
Blue Tees: 62 by Josh Baskins.

Tierra Oaks Golf Course Layout