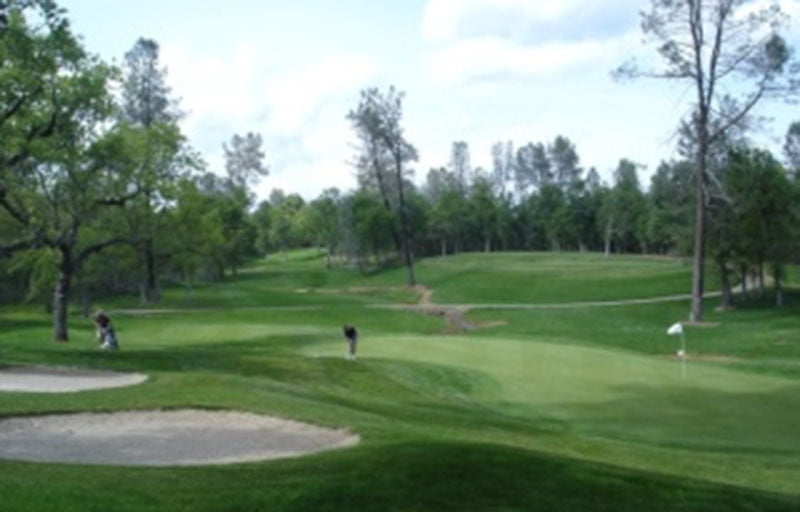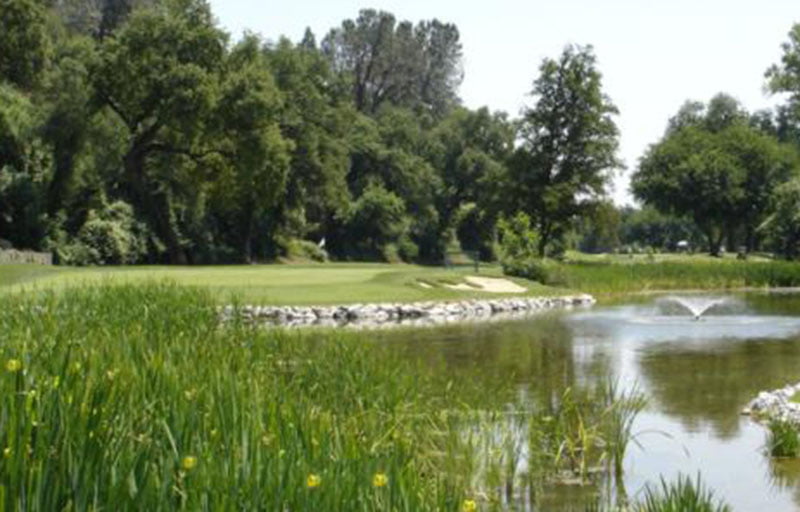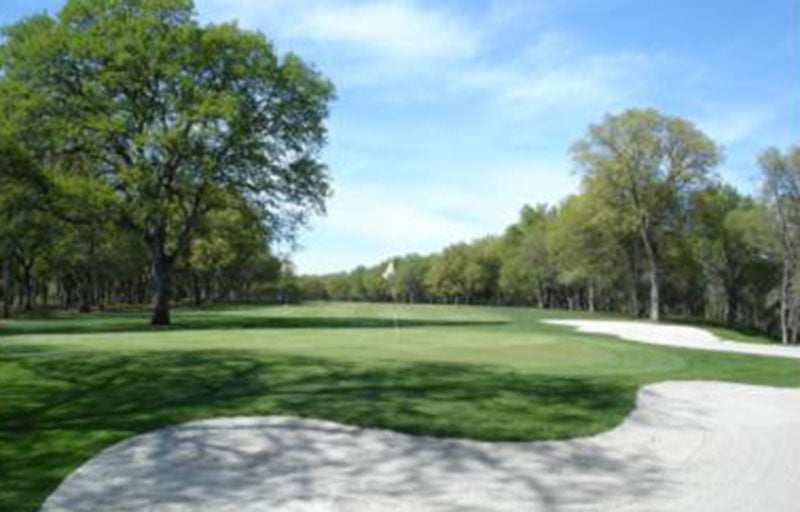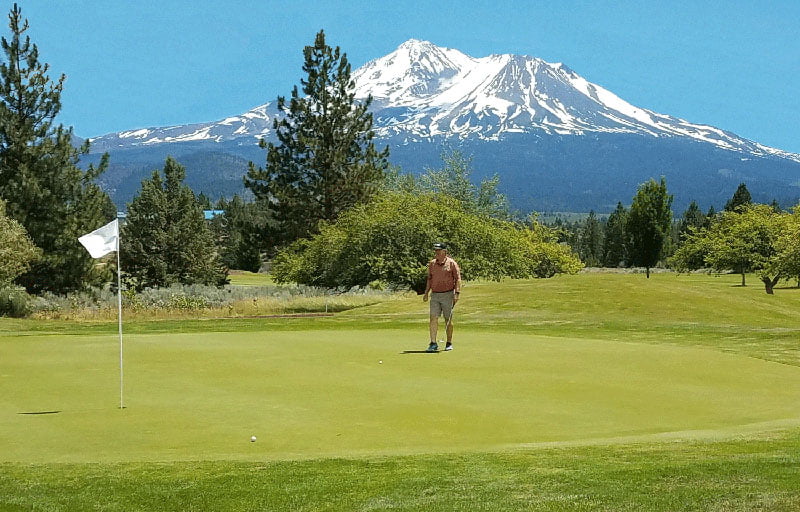 Golf Courses Near Redding
Golf Courses near Redding are highlighted here. These are less than a 90 minute drive from Redding and well worth the the time.  Memories are waiting to be made!
With Redding being surrounded by mountains on three sides, we have choices of Valley or Mountain Courses to play!
You can also visit our Redding Golf Courses or Regional Golf Courses for more listings.
Lake Shastina
Mt Shasta Resort
Fall River
Wilcox Oaks
Sevillano Golf Links
Weed Golf Club
McCloud Golf Course
Trinity Alps Golf Course
Oak Creek Golf Course
18 Hole Golf Courses - Near Redding
Located near Weed CA is Lake Shastina Golf Club which is approximatley a 75 minute drive from Redding.
Lake Shastina Golf course is a public facility that has a tremendous layout and is a pleasure to play if you don't get distracted looking at Mt Shasta to much. Designed by Robert Trent Jones Jr. it has a variety of shot requirements. Opened in 1973-1974. The main course is 18 holes with an additional 9 hole Scottish links course.  Dramatic views from being on the north side of Mount Shasta is icing on the cake to a very enjoyable resort style golf
course which is always in good condition.  Being at approximatley 3000 feet in elevation the summer weaterh is treffic and if you want to play in the winter months which is possible, it might be a bit chilly.
Lake Shastina Golf Club
5925 Country Club Drive
Weed California, 96094
The Golf Shop can be reached @ 530-938-3021
Mt Shasta Resort Golf Course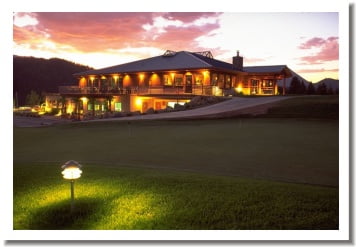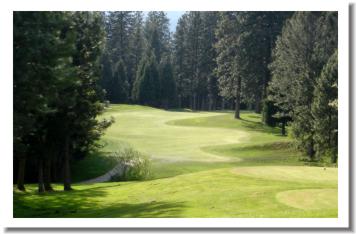 Mt Shasta Resort Golf Course has spectacular views of Mount Shasta from many holes, sometimes it's difficult to keep your attention on the golf! This mountain golf course has a design with character throughout, an enjoyable day is waiting to be had.
This mountain golf course that has spectacular views of Mount Shasta on many of the holes and is loaded with character throughout the layout. Length is occasionally rewarded but only accompanied with laser like accuracy. Tight fairways and elevation changes make it a fun challenge. The course opened in 1993 and is designed by Jim Summers and Sandy Tatum. One key feature here is the resort aspect of this facility, with lakefront rooms available it makes a great get away for a few days. The Pro Shop Bar and Restaurant make it a very enjoyable respite.  Fairways and greens are kept in good condition, Occasional bunkers greenside throughout the course.
Mount Shasta Resort & Golf Course
1000 Siskiyou Lake Blvd.
Mount Shasta, California 96067
Mt. Shasta Golf Course can be reached @ 530-926-3052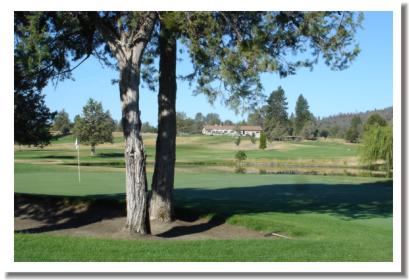 Fall River Golf course is a 18 hole public golf course opened in 1977. Home course to the annual Shasta County Amatuer held each year in the fall. Long and open describes this course along with fair and fun! When it's wet or windy it can be a bear from the back tees, be sure to pick the tees best suited to your game because it can play very long with the 7400 yard distance from the back tees. With very large greens lag putting is at a premium throughout the course. You should be prepared for a bunch of fun with the wide open fairways while also being ready for some long second shots to the greens, Fall River is always a pleasure to play and is just 70 miles from Redding.
Fall River Golf Course
42889 Highway 299 E
Fall River, California 96028
The Pro Shop can be reached @ 530-336-5555
Wilcox Oaks Golf & Country Club
Wilcox Oaks Golf Club is private Red Bluff Golf Club that is a tale of two stories: Originally the course consisted of nine holes and opened in 1929, it is open and not to tough, the second nine was built later by the members in 1977. The back is tight, and tight is an understatement, keep your ball straight on line or pay the consequences. Conditions are good and the course is always a pleasure to play.  The club also enjoys a large swimming pool adjacent to the clubhouse.
Home to the annual Red Bluff Pro-Am which is a very successful tournament, it is often full with a waiting list of golfers including amateurs, and professionals.
Wilcox is the only 18 hole golf course in the small community of Red Bluff and memberships
are more affordable than you would think, give them a call and join in on the fun !
Wilcox Oaks Country Club
Wilcox Golf Rd.
Red Bluff, California 96080.
Mail: P.O. Box 127, Red Bluff CA. 96080
The Pro Shop can be reached @ 530-527-7087
The Links at Rolling Hills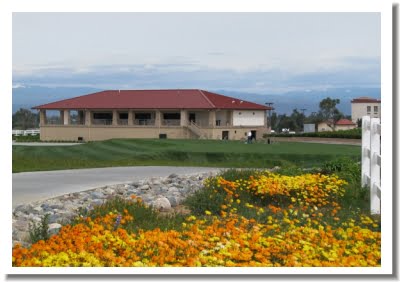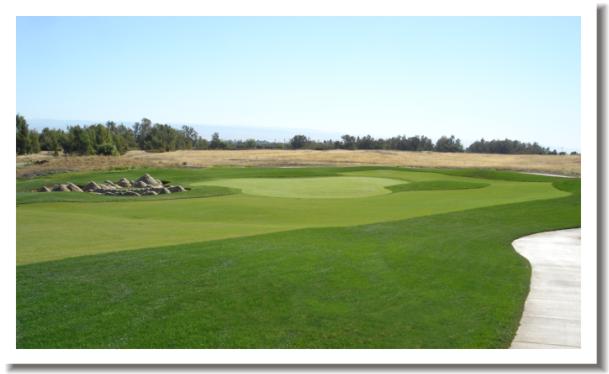 Originally called Sevillano Links Golf Course at Rolling Hills Casino this golf course was a signature John Daly design and is located 50 miles south of Redding in Corning CA.  A traditional "links" designed course can play to as much as 7800 yards from the back tees or 5416 yards from the front with multiple choices to fit your game.
The Links at Rolling Hills has undulations throughout that are in great balance, a little hill here, a little hill there, just enough to keep it interesting. The course is as you'd expect a links style golf course to be, with just one tree in play on the entire course.
Blue grass has been added to the existing Bermuda grass in the rough areas to add a striking visual definition to the course. Bermuda grass is also used on the fairways and tees. The Greens are Bent grass, they look and play very good.
Rolling Hills Casino is located along Interstate 5 in Corning just off the Liberal Avenue exit (#628).
The Links at Rolling Hills
2655 Barham Avenue
Corning, CA 96021
The Pro Shop can be reached @ 530-528-4600
Weed Golf Course is a 9 hole Public Golf Course opened in 1927. When these pictures were taken the course was in very good condition and was a bunch of fun to play. It is an old design and defiantly short, all levels of players can have fun here.
Weed Golf Course can be reached @ 530-938-9971
27730 Old Edgewood Rd., Weed California, 96094.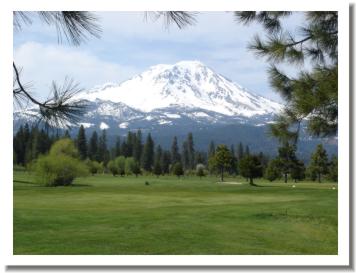 McCloud Golf Course is a 9 hole course is dominated by Mount Shasta overlooking. Originally opened in 1927 and on the south end of McCloud it is a traditional older course with oval greens with a tilt from back to front. It is a bit on the shorter side based on today's standards, the amazing thing about this course is that it is here and has been all these years. McCloud is a small town and is fortunate to have a nice golf course to enjoy all these years. The clubhouse and pro shop are very nice.
McCloud Golf Course can be reached @ 530-964-2535
11001 Squaw Valley Rd., McCloud, California 96057
Trinity Alps Golf Course in Weaverville is a 9 hole semi-private course opened in 1975, public play is accepted.
Trinity Alps Golf Course can be reached @ 530-623-6209
160 Golf Course Drive, Weaverville, CA 96093.
Oak Creek Golf Course in Red Bluff is a 9 hole public course opened in 1978.
Oak Creek Golf Course can be reached @ 530-529-0674
2620 Montgomery Road, Red Bluff, California 96080